How To Get People To Do What You Want (Without Regretting it Later)
We depend on other people every day at work. Our supervisors, colleagues, and staff may support our ideas and projects, approve, and budget for things we want, help us overcome barriers and resistance, identify resources and solutions, and move projects forward.
But what if we are at a standstill or at loggerheads with someone who is not cooperating or responding – or even actively blocking our way? Thankfully, I've learned a way to resolve impasses and create greater buy-in, accountability, mutual trust, and goodwill... or at least give myself a much greater chance of these outcomes!
Click here (or the image below) to watch my 90-minute webinar that I led on May 9 for the Interagency Alternative Dispute Resolution Working Group(in coordination with the U.S. Department of Energy's Alternative Dispute Resolution Office):
When there is something that I want from another person, there are two Key Questions to ask:
What do you want someone to do?
Why do you want them to do it?
As in many situations when we use Collaborative Communication, we have three basic moves:
Self-management
Expressing with authenticity
Listening empathically
How to Get What You Want...
...again... without paying for it later! Use four basic steps:
Observation: What's happening?
Feelings: What's does that bring up---on a visceral level?
Needs: What's driving it? (on a core level)
Request: What is one step that could move it forward?
Check out the webinar slideshow with key talking points here (17 pages)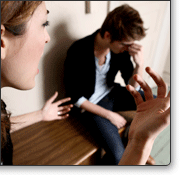 article with your favorite social network.